9 Safety Tips for Jackhammer Users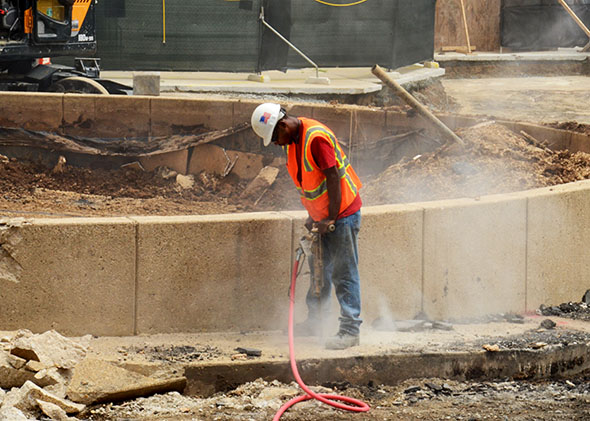 Concrete is extremely difficult to break apart with conventional tools, and that is the reason why labourers and construction professionals all around the world use jackhammers to assist with their work.
Used to split apart and destroy concrete, paving, and other solid surfaces, jackhammers are a staple in almost any building work site. While they're amazingly useful, they're also somewhat dangerous to use.
Using a jackhammer is not for the faint of heart. It is not something you can learn to use following a couple of minutes of tinkering. Many areas require jackhammer operators to undergo training and acquire certification before they are even allowed to use a single.
If you're thinking about using a jackhammer, knowing and observing a few tips and pointers can definitely help in ensuring safe and proper usage.
1. Wear safety gear
Wearing personal protective equipment is vital to using a jackhammer. Jackhammers are harmful in the hands of an unskilled individual, and one wrong move can seriously injure a person.
Basic safety gear which have to be used includes earmuffs or earbuds, goggles, respirator, high-visibility vest, work gloves, and steel-toed shoes.
2. Educate yourself
Whether you are a casual DIYer or a specialist, you have to undergo training so you may learn how to safely and properly use a jackhammer. Utilizing a jackhammer requires proper knowledge to ensure the user can safely and correctly use it.
3. Compressor placement
Jackhammers are noisy, and together with the air compressors, the noise may become extremely annoying and even harmful. Reduce the degree of sound by positioning the compressor as far away from your job site as you can.
4. Inspect the jackhammer
Make it a point to inspect the jackhammer for any defects or damage prior to and after using it. See if all components are complete, procured, and in working condition.
Don't forget to inspect the air pipes for cracks and damage, and also the cable for wear and tear. Because of this, you can avoid spending money on maintenance expenses in the near future.
5. Position yourself
Jackhammers are big and heavy enough to cause injuries to their users. When using a jackhammer, place the instrument at an angle with the hammer's entire body leaning back to you. Doing this will keep the hammer tip from jamming. Furthermore, it offers the user more control in case the jackhammer goes out of control.
Lift the jackhammer along with your thighs. This also protects you from debilitating and costly back strains and injuries. When moving from one spot to another, set your hands on the lever.
6. Utilize the Proper points
Choose the best jackhammer factors to this material you will likely break. Rock points for stone, chisel factors for concrete and other surfaces, and asphalt factors such as asphalt. Never use a damaged or broken point.
In the event you need to swap instrument points, do not forget to flip the air supply off and relieve the pressure in the nozzle.
7. Clear the area
Don't use a jackhammer near bystanders, untrained co-workers and animals. Shut the machine off if somebody tries to approach you. A jackhammer is not a toy.
8. Examine the arrangement
Evaluate the structural integrity from time to time. Weakened points may converge and the whole arrangement could fail, resulting in a partial collapse or worse. Make sure there are no live piping or wiring buried inside the cement.
9. Take breaks often
Do not forget to take regular fractures when using a jackhammer. Injuries may result from the vibration and muscle fatigue. Do not try and complete everything in one go. Pace yourself and stagger the workload.